Fill in your delivery details to check available shipping options and calculate rates for this product
Chicken Feeder & Waterer Set with Twin Cups

This set includes:
1 x 1 gallon waterer (approx 19 inches tall) with twin cups and rear hooks

1 x 7lbs feeder (approx 19 inches tall) with rain cover and rear hooks

2 x ergonomically designed lids

4 x aluminum solid wall bracket & screws

Fast & free shipping from USA warehouse
---
MAIN FEATURES: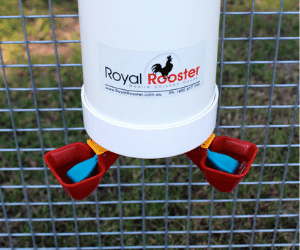 Our waterers overcome the problems of evaporation, spillage and soiled water. These waterers incorporate two professional valve operated drinker cups (used by poultry experts) that only allow a small amount of water in the red cup at any one time. When the chickens drink from the red cup and the water level goes down, the valve automatically replenishes the cup. With traditional waterers, we regularly had to change the water as the chickens had scratched dirt into the drinker. Like us, chickens need a fresh supply of clean water. The waterers hold approximately 1 gallon of water and are 19" tall.
Our feeders overcome the common problem of feed wastage. We used to have so much grain wasted by chickens who would scratch all their feed onto the ground in search of the tastiest piece of grain! This is a very common thing for chickens to do. The uniquely designed tray that forms part of this feeder, has special divisions which discourages the chickens from 'swiping' the grain from the feed tray and onto the ground. Many dollars are saved using this type of feeder. The feeders hold approximately 7lbs of feed and are 19" tall.
---
RAIN COVER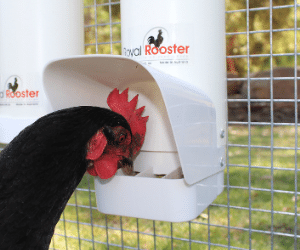 This waterer and feeder set comes complete with a rain cover for your feeder, to keep your feed clean and dry in any type of weather. The added benefit of the rain cover is that it helps to prevent wild birds such as sparrows and pigeons as well as possums, squirrels and rodents from eating from your feeder. No one wants to feed all the local wildlife when they're trying to just feed their chickens! Many dollars are saved using these feeders.
---
UV RESISTANT
These feeders and drinkers won't heat up like metal containers or degrade easily like other plastic ones on the market. We've had customers who have been using the same waterer and feeder set for 10 years!
---
HOOKS FOR HARDWARE CLOTH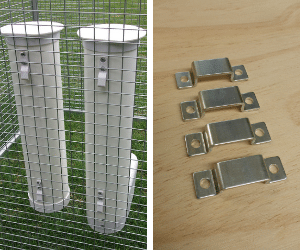 These drinkers and feeders simply hook onto the hardware cloth of your coop, making cleaning and filling much easier than hanging drinkers. These are made from nylon plastic so are very strong with replacements available if they do manage to break. The hooks are designed to hook onto 1" x 1" hardware cloth but if you have smaller mesh, 4 metal brackets are supplied with your set. These can be fixed to your smaller hardware cloth with zip ties or wire and your set can hook onto these brackets rather than onto the hardware cloth directly.
---
BRACKETS FOR SOLID WALLS
If you want to fix your set to a solid timber or iron wall instead of hardware cloth, aluminum 'solid wall brackets' can be purchased with your set for easy installation. Eight needle point screws also provided.
---
FEED TYPES
Most feed types work well in Royal Rooster's gravity style feeder such as pellets and grain mixes. Some finer grain mixes are unsuitable to use in these feeders in damp weather, as moisture is absorbed into the feed which affects the flow of the grain into the tray.
---
SLIMLINE, COMPACT DESIGN
A big advantage is that these waterers and feeders take up VERY little room in your coop. If you have a smaller coop, maximising space is a key concern.
---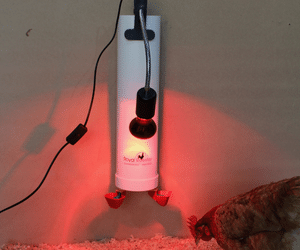 HEATED WATERER FOR WINTER
If you need your waterer to not freeze in the winter, we have found that clip on reptile lamps with a heat globe are perfect for clipping onto the Royal Rooster waterers to keep the water in the drinker tube and cups from freezing. These are not sold by Royal Rooster but can be found in pet stores or online.
---
FOR CHICKENS OF ALL AGES
As soon as your chicks have hatched, they can use these drinkers. They are ideal for chicks as they can't accidentally drown like they can in larger water containers. Just ensure you hang the drinker low enough for the chicks to reach. The cups are valve operated so they automatically replenish when the water level goes down meaning the chicks don't need to peck on the floats for the cups to work.
---
AUSTRALIAN MADE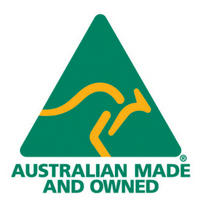 Royal Rooster's drinkers are made in Australia using a combination of local and imported materials. The drinker cups are professional 'lubing' cups made in Germany.
---
SHIPPING
These sets are warehoused in the USA and generally shipped 1-2 days after an order is received. We use either FedEx, UPS or USPS, whichever is the most economical to your area.
---
Not what you're after? See the whole range of products on offer from Royal Rooster or contact us if you have further questions. We'd love to help!
More Information

| | |
| --- | --- |
| Mini Description | 1 gallon waterer featuring two cups. 7lbs feeder with rain cover. |